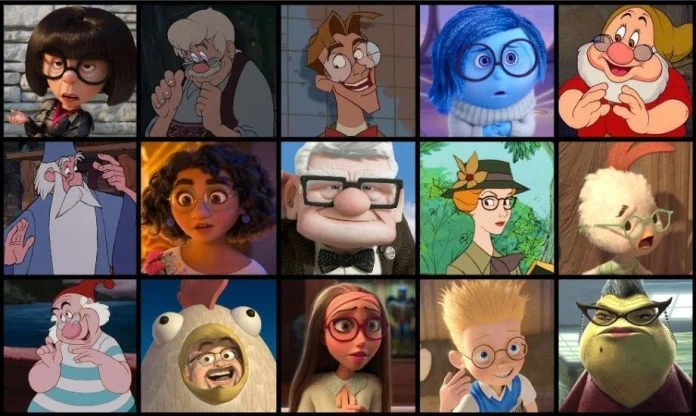 For ages, glasses have been used for characterization in movies and serials, and now in web series. It is that one piece of accessory that can make a character stand out. Writers, authors, and screenplay writers have repeatedly used glasses to make their characters look intelligent, wise, or intellectual. But when it comes to little kids, they do not like to wear glasses. In fact, kids feel out of place and socially inept when they have to wear glasses. But not to worry, Disney characters with glasses can help develop their interest in the new addition to their wardrobes.
What do Glasses Symbolize?
Glasses have often been the symbol of wisdom, enlightenment, and knowledge. According to Susan Krauss Whitbourne (Professor Emerita of Psychological and Brain Sciences at the University of Massachusetts Amherst), a person wearing glasses comes across as intelligent, honest, and trustworthy. Perhaps this is why many authors and writers have put glasses on their geeky, nerd, or studious characters. 
Disney 
If you are a parent to a young one or not, there is a high chance that you are already aware of Disney and some of its characters. The most memorable and iconic is Mickey Mouse – the first character created by the company and also the mascot of Disney. For the last ninety-nine years, Disney has been creating some memorable animated personas. Generations grew up watching Mickey Mouse and other Disney characters. Ain't nobody who never saw Mickey Mouse.
Disney has produced some magnificent films and created fantastic animated characters. Despite this, it has been blamed for supposed plagiarism, depicting racial stereotypes, and not putting enough emphasis on racial and other issues in the past. This becomes even more critical because Disney heroes have always inspired people, especially children. They have even idolized one or the other characters. Disney kept addressing such issues with every new Disney hero. 
One such thing was Disney characters with glasses to show wise and perceptive characters. Although only side characters were given glasses over the decades, it was in 2001 that Disney had a lead character – Milo Thatch, of the movie Atlantis: The Lost Empire who wore glasses.
Disney Characters with Glasses
Contrary to popular belief, Mirabel is not the first protagonist of a Disney movie to wear glasses. After Milo Thatch, there was Chicken Little in 2005 and Lewis Robinson in 2007, who wore glasses. But they were all male characters. Mirabel Madrigal was the first female protagonist to wear glasses. What is common to all these characters is that they think deeply, display wisdom, and have the courage to go against the tide.
Due to such personality traits, these Disney characters with glasses serve as first-class role models for little children. Kids love courageous and adventurous characters as they want to imbibe such qualities but are scared to venture into the unknown. Most of the characters who wear spectacles, whether they are in the lead roles or not, are shown as 
socially awkward but kind and caring towards their friends, other people, and even other creatures

shy in public but fearless enough to go beyond the surface to address some problems
This is what most kids are exactly, especially who wear spectacles. Some of the memorable Disney characters with glasses are:
Meilin Lee – Turning Red (2022)
Mei is a confident and ambitious character. She is just like any other headstrong teenager dealing with the chaos of adolescence. The bespectacled character does well in school, does well in Mathematics, cares about the environment, and at the same time carefree and fun-loving. Just like any adolescent is. She is one of those Disney characters with glasses who teenage kids can relate to.
However, the spectacles were never really her cause of worry as she got ashamed and angry about her new look. Then what was it? Well, if you have seen the movie, you would know. And if you've not… It's on Disney + Hotstar – Go Check it Out!
Priya Mangal – Turning Red (2022)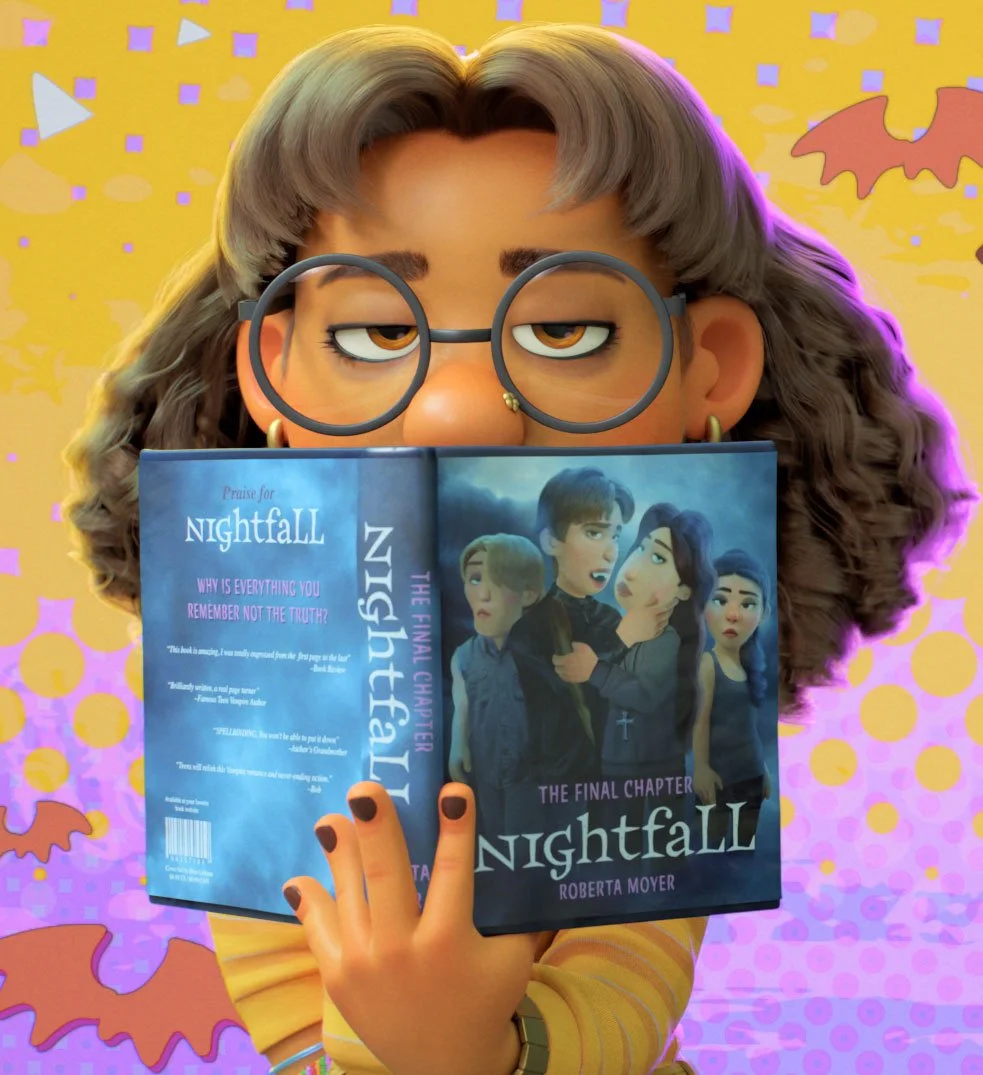 Another character from the same movie, Priya Mangal, Meilin's best friend, is one of the many side Disney characters with glasses. She is chilled, diligent, and very supportive of her friends. She is stoic, composed, and has a deadpan sense of humor, which makes her stand out from the rest of the characters. Every teenager social group has at least one such chill friend like Priya. By making this character wear glasses, the makers have only made her more relatable and the spectacles cooler.
Mirabel Madrigal – Encanto (2021)
You need no magical powers to prove you are special. This message has been delivered in multiple movies, including several Disney movies. But you can look good even in glasses and also be a hero – Disney gave this message to the world, especially young girls, in 2021. This was the first time they had a female protagonist who wore glasses. Encanto was a superhit, and Mirabel was the first of many female Disney characters with glasses.
Why Mirabel can be a Good Role Model for Children
Mirabel Madrigal was born into a family where everyone possessed their own magical gift. She was the only one who did not. She looked just like an ordinary girl, wore regular clothes, visible freckles on her face, and not to forget… green round-framed spectacles. Deep inside, she desperately waited for a miracle and wanted to prove herself – just like any other teenager. She was emotional and empathetic towards people around her, always ready to solve their problems. 
But like every child, there was something special about her. Her gift was farsightedness – not exactly a magical power but something that saved the magic. She could sense that the house was in danger, as was the power of each family member. She was so brave (another non-magical gift) that she went on an uncharted path to save the magic. Mirabel also fortified the house – the casita. The spectacles symbolized her ability to see the future of her family.
What is the Secret Meaning of Mirabel's Glasses
Many Disney characters with glasses display traits that support the tropes associated with spectacles. This is partially true in the case of Mirabel. According to director Jared Bush, "In Spanish 'Mira' means 'look' and the whole film is about learning to see each other fully." The director further added, "We wanted to draw attention to what/how we see." Perhaps this is why they gave the lead character glasses so she could see what nobody else saw.
Sadness – Inside Out (2015)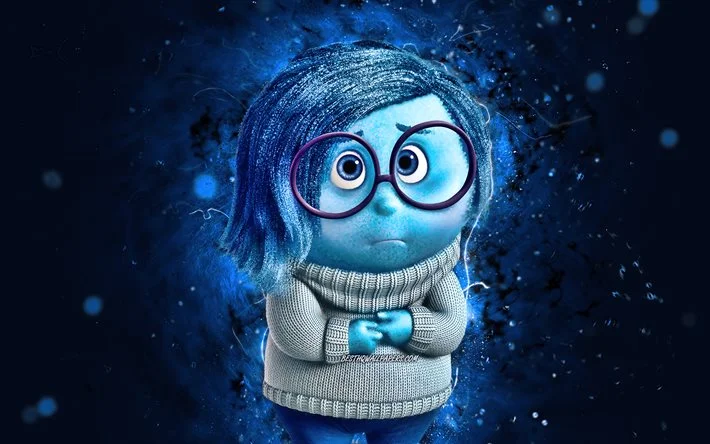 In the history of Disney movies, glasses-wearing characters have always been outcasts and gauche personas. But this could also mean children who wear glasses do feel gawky at the beginning. This could be due to the change in their look or the defect in their eyesight. Sadness was one of the emotions that lived in the mind of Riley, the protagonist of Inside Out. She is a strong emotion that children feel right from the time they start developing social skills. 
Sadness is not the character you'd like to show your child to inspire glass-wearing. But it is one of those Disney characters with glasses that your child can take comfort in, knowing he is not alone. This character will help them understand and embrace their negative emotions in a better way. According to the trailer, 'We all have little voices in our head', you can help them realize just that – 'they're all in your head'.
Honey Lemon – Big Hero 6 (2014)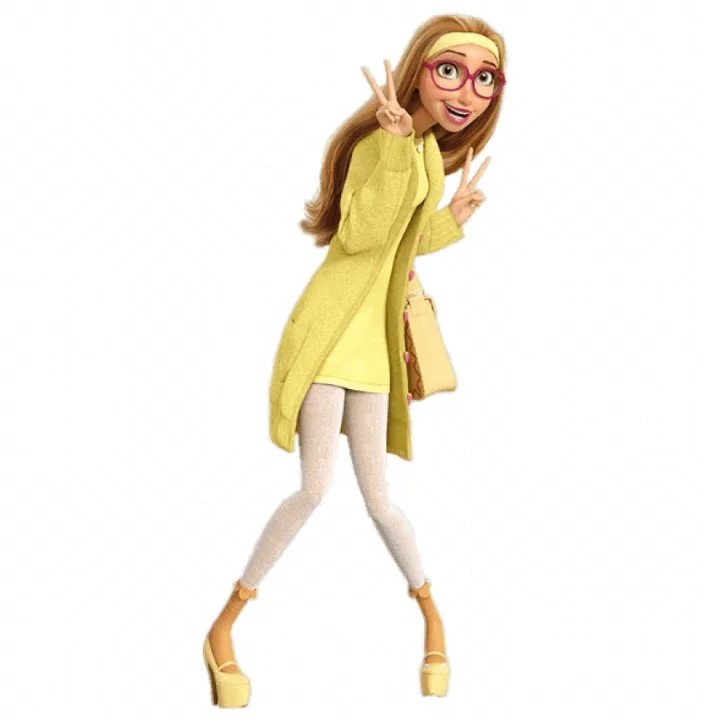 One of the Disney characters with glasses whom young scientists can idolize is Honey Lemon. She is the most extroverted member of the Big Hero 6. She is a cheerful genius scientist. Honey Lemon is pretty, upbeat, and cute. By putting glasses on this character, Disney reinforces the use of spectacles to show intelligence and expertise.
Children, especially those who love science or experiments, will find an immediate connection with this character. She is very observant, loves chemistry, and is very bright. She is not scared of experimenting even with hazardous substances. On the contrary, be it her experiments or outside her work, her enthusiasm and optimism are contagious. 
Carl Fredricksen – Up (2009)
Ok, maybe not in the same age bracket as your kid, but he can give her some real adventure goals. Carl Fredricksen is one of the human Disney characters with glasses who is also the protagonist of Up. Which kid wouldn't like to fly or wishes she could have wings? Carl makes it look easy. He makes a whole house fly up in the sky. 
Glasses are usually associated with old age. But they also symbolize genius. Carl is both. He can make your little glass-wearer keep believing in herself. Have faith that dreams do come true. And being old is not a barrier. 
Ace – Chicken Little (2005)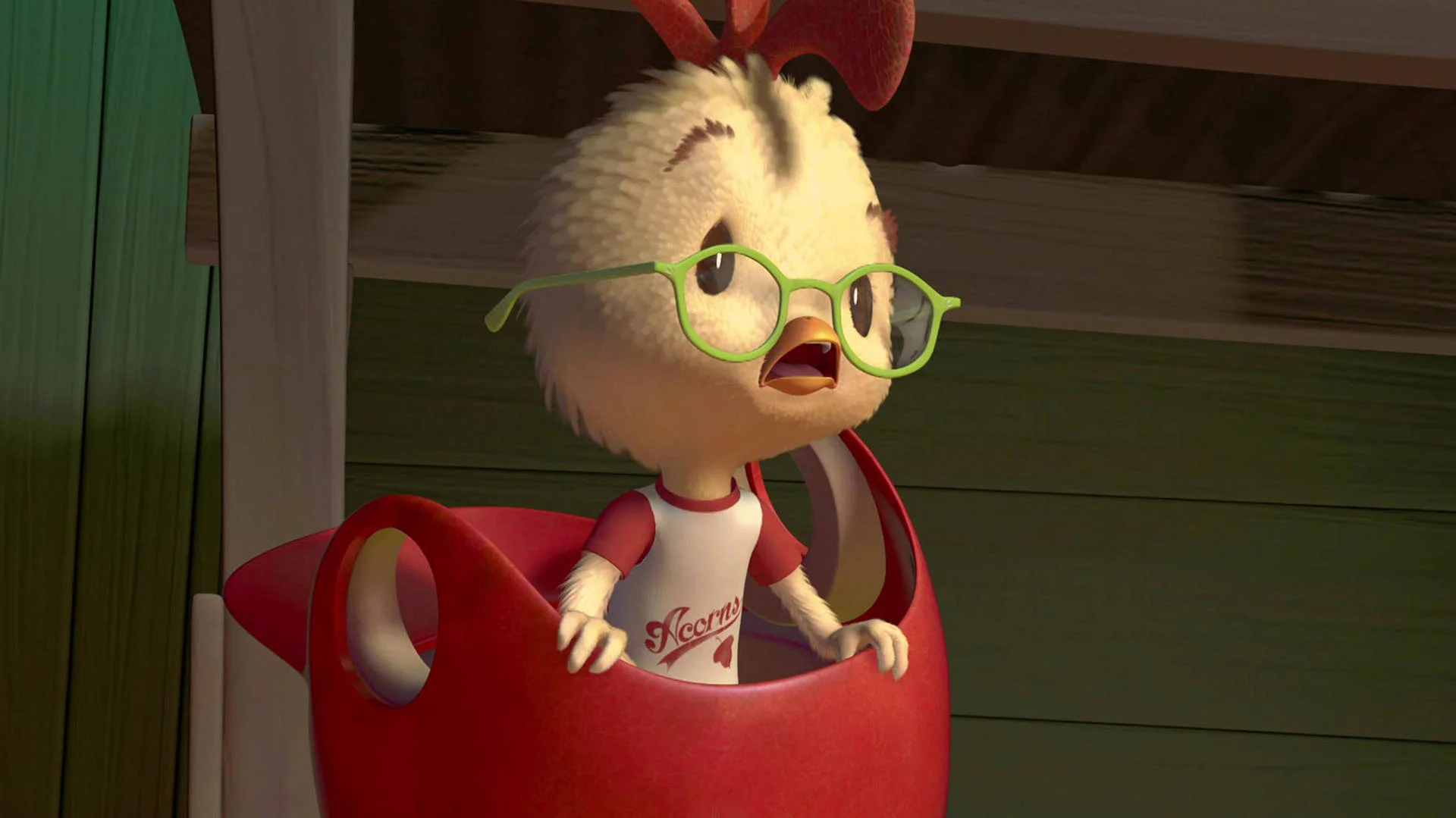 'Some heroes are born great; others have greatness dropped upon them'. This line from the trailer gives us an idea that something's about to fall on the protagonist – literally! Ace's plight is just like that of any normal kid who startles the world with his imaginative stories. They ridicule him and call him weird. Kids who become a social embarrassment and are bullied in school, especially those who wear glasses, can relate well with him. 
Science fiction is a favorite genre amongst kids. And this little character not only fulfills our thirst for sci-fi adventures, but also tells the kids to never stop believing in themselves, even if the world thinks they are dorky, bizarre, or crazy.
Edna Mode
– 
The Incredibles (2004)

Now that is a strong character who leaves an indelible mark with whatever little dialogue she has in limited screen time. With her to-the-point lines and straightforward attitude, she amassed a huge fan base. Most kids love her because of her blunt dialogue delivery and her pep talk. She is that no-drama best friend that everyone would love to have.
Needless to say, Edna is one of the most unforgettable Disney characters with glasses. Her big, black, round spectacles make her stand out as a character and become memorable. It gives her that intellectual, nerdy look that adds to her genius persona.
That makes her a wonderful inspiration for your kid to feel great about wearing glasses. Need we say Mode?
Milo Thatch – Atlantis The Lost Empire (2001)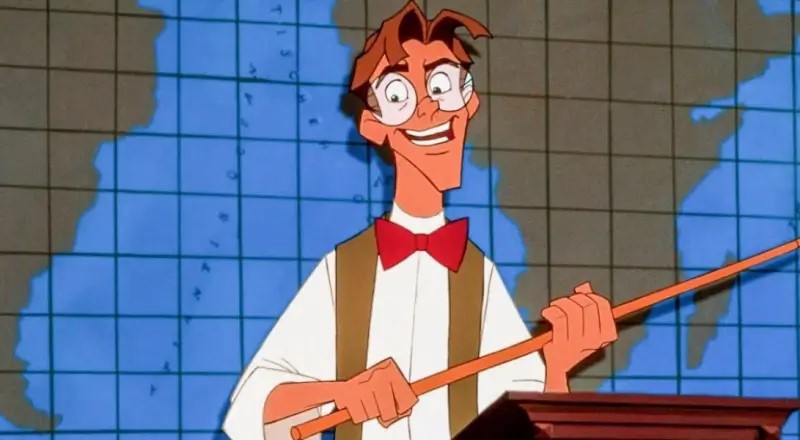 If adventure and steampunk is your or your kid's favorite genre then this movie is a must-watch. Milo Thatch, the first protagonist of a Disney movie to wear glasses, is a cartographer and a linguist. He is not only scholarly but also brave. Milo believes in himself and carries on despite several hindrances on his way. He is one of those Disney characters with glasses whom geeky kids can look up to.
Other Disney Characters with Glasses
Apart from the above, there are many more Disney characters with glasses who formed towards the end of the last century. They have inspired and entertained us ever since. Even now, we love to see Peter Pan, where John Darling and Smee were favorite Disney characters with glasses. Or who can forget White Rabbit in Alice in Wonderland and Doc dwarf in Snow White? How about Merlin in The Sword in the Stone? And Geppetto in Pinacchio? These are some of the most loved side characters who wore glasses. They are as memorable as the movies themselves in the history of Disney.
Cartoon Characters That Are Not Disney Characters with Glasses
Despite its popularity as an animation company, not every animated movie or series is created by Disney. There are cartoon series or movies that are created by other companies. They have some equally memorable characters too. Some of them which have not only entertained kids but influenced them as well are: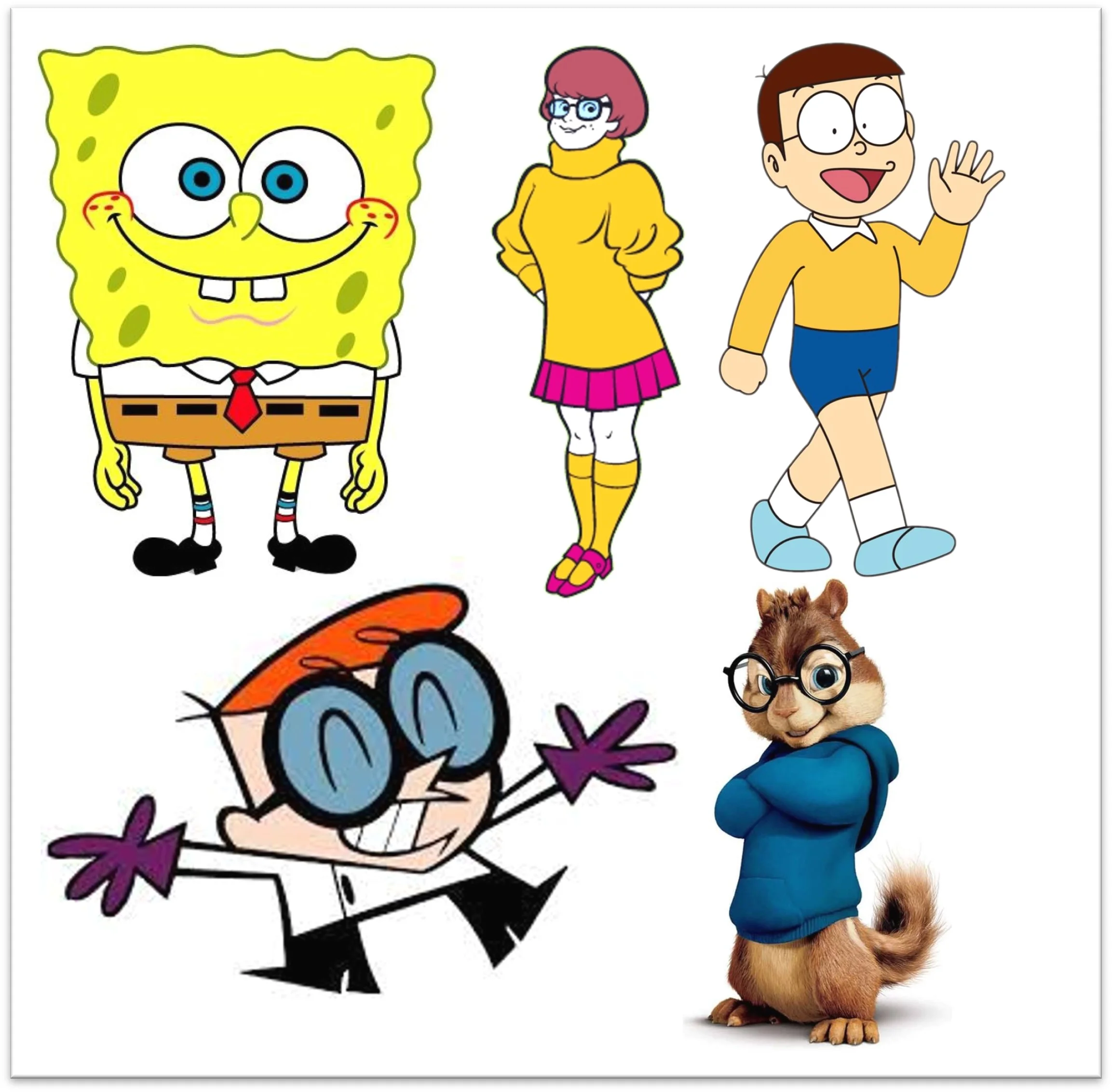 Spongebob Squarepants –

Indeed a lovable and quirky character who is a hot favorite among kids. He is a popular meme theme. He can inspire both young as well as older kids.
Velma – from Scooby Doo – For kids who want to look brainy and borderline genius, Velma can be a wonderful character to take a cue from.
Simon – from Alvin and Chipmunks – Who is the smartest of the chipmunks? Undoubtedly, Simon. He has large circle-shaped black frames that make him look cute and very clever too. He can be a great motivator for young children.
Dexter – from Dexter's Laboratory – Another cartoon character with glasses who has rocked the 90s with nerdy looks and a genius that was borderline crazy.
Nobita – from Doraemon – It is not over till we discuss Anime. Anime characters are the in-thing. They are everywhere – from cartoon channels to video games. One of the non-Disney characters with glasses who is equally popular is Nobita. Be it cakes, dresses, or toys – he is everywhere, along with his bestie Doraemon. So, he can be a brilliant inspo for your kiddo!
How to Inspire Children to Wear Glasses
Resistance to glasses is quite common in children, just as saying No to a new food or studying. But with persistence and some inspiration, they will eventually start wearing them. Inspiration can come from anyone in the family or school, but what works best is when it comes from some animated character. Disney characters with glasses can excite the child to try the new pair. 
Another way to inspire them to wear glasses is to allow them a little extra screen time for each hour of wearing their new pair. Yes! It's ok to allow them a little more screen time within the permissible limit, especially when the goal of glass-wear is to improve vision. Watching their favorite Disney characters with glasses can help them feel connected and develop a sense of belonging. They feel they are not alone and have a role model to look up to.
To Sum It Up
Be it Disney characters with glasses or non-Disney, cartoon characters can be a great source of inspiration. They entertain young ones and even give them some serious life goals to imbibe. They are idolized by young kids. Children want to look like them, be them, and hang out with other like-minded kids who love the same characters. These awe-inspiring personas make superb motivators for young kids to shed their shyness and feel excited about wearing glasses.
It is natural for a child to not feel confident about her new pair of glasses. She can be awkward at first, wondering how they make her look. So as guardians, we can help them deal with the feeling by tapping into the dilemmas that are haunting them. And to help you in this mission, there are many Disney characters with glasses. These characters have undergone the same emotions. And by the end, they can deal with them successfully and emerge as winners.